I'm Zach Guza.
I am a Certified Personal Trainers and Parkinson's Disease Exercise Specialist based in Knoxville, TN.
CREDENTIALS
​United  States Air Force Academy graduate

Air Force Officer & Helicopter Pilot

Certified Personal Trainer –

 

WITS

 

Education
Brice and Blair's Dad (the ultimate workout)
NOT JUST A GYM RAT
I don't have perfect abs.  I like to eat.  I have a drink occasionally. I LOVE coffee.
I am pretty normal but I know how important and powerful regular exercise is for a normal life. It can be the difference between life and death.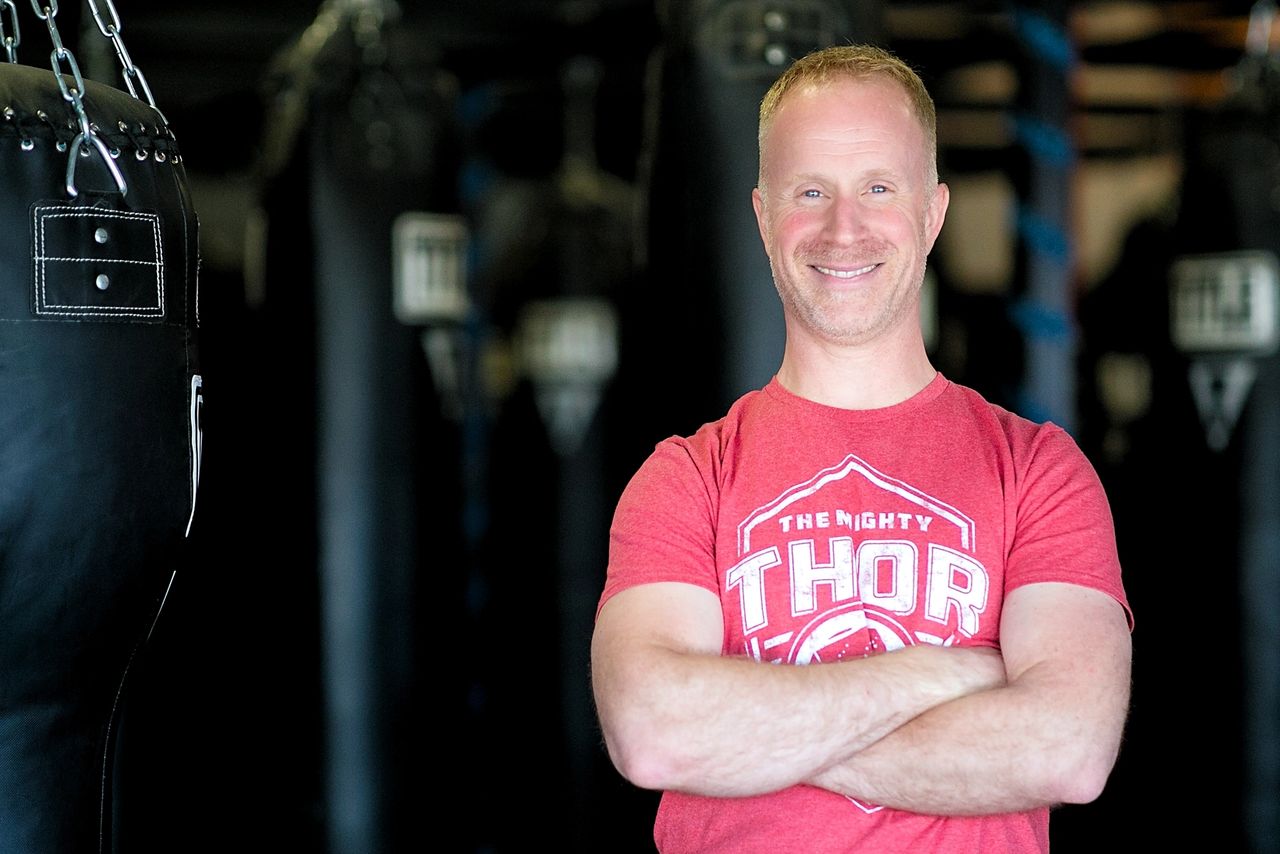 FITNESS IS
PERSONAL
TO ME
I founded Black Dog Fitness to help others who are suffering from mental health conditions.
I learned the hard way that exercise is absolutely essential for mental as well as physical health. I suffered from undiagnosed depression for years, only finally realizing what was wrong when I watched a video called "I have a black dog and his name is depression." 
When I finally sought professional help, one of the first things my psychiatrist told me was that I absolutely had to exercise to keep my symptoms at bay. Today, regular intense exercise is a non-negotiable part of my schedule and is absolutely essential for balancing the demands of being a husband, a father, a business owner, and someone who suffers from depression.

Knoxville's First Gym with Parkinson's Focused Classes
Black Dog Fitness is also personal to me on another level. My dad had Parkinson's Disease and he was never told that exercise would help him fight the disease.  He suffered a steady decline until his death in 2013. 
Since his death, hundreds of studies have shown that exercise can slow, stop, or possibly even reverse the progression of Parkinson's Disease.  
You are never "too far gone" or too old or sick to start exercising.
In the Media
I've been fortunate to have been featured on & interviewed by various outlets.
Check out a few of the most recents.
FITNESS FRIDAY
a home-health series with The Parkinson's Foundation where I discuss tips & movements to promote posture & strength
HEALTH CONNECTIONS
an interview and conversation with Dr. Carole Myers about the benefits of physical fitness for mental health
THE BLACK DOG
In October of 2012, the World Health Organization put out a video called "I had a black dog, his name was depression."  It is a video version of the 2005 book I Had a Black Dog​ by Matthew Johnstone.  
The instant I saw this video, I realized that the pain and torture I had been through had a name, it wasn't my fault,  and it could be treated.
Please contact me if you are struggling with depression.  
I have been there. I still go there occasionally but now I know that exercise is a way out of the darkness.